M1-Based 24-inch iMac Comes in Spring Colors
Apple has continued to have huge internal and external updates with it's iMac line. For the first time since 2012, Apple has radically overhauled things for the new M1-based 24-inch iMac!
At 11.5 mm thick, the 24-inch iMac is thinner than the original iPhone. It comes in seven awesome colors: green, yellow, orange, pink, purple, blue, and silver. The back of the iMac is a vibrant color, whereas the front uses a muted version of the color and a light gray bezel. It's so thin that there's no room for a standard power jack, so it comes with an external power adapter that includes an optional Ethernet jack.
Inside the new 24 inch iMac, is the same M1 chip as in other M1-based Macs. Overall performance will be stellar thanks to the M1's 8-core CPU and 8-core GPU, but you can tweak the price/performance curve slightly by choosing a 7-core GPU instead and by picking either 8 GB or 16 GB of unified memory.
The screen, which actually measures 23.5 inches diagonally, offers 4480-by-2520 resolution, making it a 4.5K Retina display, between the 4K display on the now-discontinued 21.5-inch iMac and the 5K display on the 27-inch iMac. It's topped by a 1080p FaceTime HD camera that, with help from the M1 chip's image signal processor—and advanced microphones and speakers—should offer excellent out-of-the-box Skype, Facetime, and video chat quality.
Apple introduced three new color-matched versions of the Magic Keyboard as well. One adds dedicated keys for Spotlight, Dictation, Do Not Disturb, Lock, and Emoji; the second trades the Lock key for the first Touch ID sensor on a standalone keyboard; and the third includes both Touch ID and a numeric keypad. They come with color-matched models of the Magic Mouse, or you can upgrade to a color-matched Magic Trackpad instead. Ask us about special orders and configurations to help pick the right accessories for your workflow!
Three models of the 24-inch iMac are available:
$1299 gets you that 7-core GPU, two Thunderbolt ports, 256 GB of storage that's upgradable to 1 TB, optional Gigabit Ethernet, and a standard Magic Keyboard. It's available in blue, green, pink, and silver. 
$1499 gets you the 8-core GPU, 256 GB of storage upgradeable to 2 TB, two Thunderbolt ports and two USB 3 ports, standard Gigabit Ethernet, and a Magic Keyboard with Touch ID. And you can pick from all seven colors.
$1699 gets you the 8-core GPU, more storage with 512 GB of storage upgradeable to 2 TB, two Thunderbolt ports and two USB 3 ports, standard Gigabit Ethernet, and a Magic Keyboard with Touch ID. And you can pick from all seven colors.
Based on our current customer's experiences with the M1 MacBook Pros, Airs, and Mac Minis, we think these will be a hit! No matter if you are looking for a family computer or a new video editing machine, the M1's are surprisingly capable of doing it all for a great price! Don't forget to ask us about customizing the storage, RAM, and accessories as well! All are available for pre-order on April 30th. Email or call our sales team to learn more (608)-838-6650, sales@graphiteas.com
M1-based iPad Pro Gains Thunderbolt and Liquid Retina XDR Display
Not much has changed on the outside of the new iPad Pro, but a ton has changed on the inside. Now packed with the M1 chip, the new iPad Pro boasts a 50% power increase over last year's model!
Apple also updated the iPad Pro's port from USB-C to Thunderbolt/USB 4, allowing you to take advantage of higher-performance hardware, such as external storage devices and high-resolution external displays!
Need access to the web on the road or 24/7? Don't worry; the cellular iPad Pro models also got an upgrade to the 5G cellular networks.  5G is pretty new, but as the 5G grows, so will your ability to connect to the net with blazing fast speed! 
Both iPad Pro models also receive a new 12-megapixel Ultra Wide TrueDepth camera on the front. Along with help from the M1 chip's machine-learning capabilities, it enables a new feature called Center Stage that recognizes you in video calls and pans and zooms to keep you in the frame as you move around. It will work with FaceTime for now, with more apps planned for the future.  
The iPad pros now use a similar technology to the Pro Display XDR. The 12.9-inch iPad Pro's Liquid Retina Display XDR is lit by more than 10,000 miniature LEDs, combined into nearly 2600 dimming zones. (The previous model's screen had 72 LEDs.) The result is a display that's brighter and offers more contrast than before, making it great for photo or video editing. Can't decide on what model or configuration is right for you? Don't worry; we've got your Mac! Give us a call or email our sales team to learn more, (608)-838-6650, sales@graphiteas.com
Pricing has changed a little for the iPad Pros. The 11-inch model continues to start at $799 with 128 GB of storage. The 12.9-inch model starts at $100 more, but thanks to the Liquid Retina XDR display and M1 Upgrade, it is definitely worth it!. Now,starting at $1099 for 128 GB. Both are upgradeable to 256 GB ($100), 512 GB ($300), 1 TB ($700), or 2 TB ($1100), and note that the models with 512 GB and less come with 8 GB of unified memory, whereas the 1 TB and 2 TB models have 16 GB of memory. Adding 5G cellular now costs $200.
Find Your Keys, Purse, or Backpack with an AirTag
Our whole staff is very excited about this next new product. The AirTags are 1.26 inches in diameter and .31 inches high—roughly the size of four half-dollar coins. They communicate with nearby Apple devices via Bluetooth and Ultra-Wideband, which works with an iPhone 11 or iPhone 12 to provide Precision Finding that directs you to the exact location of the AirTag!
To make it easier to attach an AirTag to your keys or backpack, Apple offers a variety of keyrings and loops. Available for pre-order with more styles on the way. 
A single AirTag costs $29, or for a better deal, a four-pack for $99. We're looking forward to giving an AirTag a try, assuming we can still find our keys when it starts to ship on April 30th. 

Apple TV 4K Offers Enhanced Video and Redesigned Siri Remote
The wait is over! Apple has finally updated the hardware inside the Apple TV 4K, giving its second-generation model a faster A12 Bionic processor, HDMI 2.1, and 802.11ax Wi-Fi 6 wireless networking. The speedier processor enables the playback of HDR and Dolby Vision video at 60 frames per second. The other hardware changes could enable new capabilities in the future, like 4K video at 120 fps. 
In software, Apple added a new color calibration feature that lets you use any Face ID-enabled iPhone running iOS 14.5 or later to calibrate the colors on your TV; it will also be available to the Apple TV HD and first-generation Apple TV 4K. Giving you the best image quality specific to your TV! 
The bigger news is that Apple redesigned the Siri Remote (check out the image on the right). The new Siri Remote features a circular clickpad controller with five-way navigation, a touch-sensitive surface for swiping in the middle, and a touch-sensitive outer ring that works as a jog control for navigating within a video. It also features dedicated power and mute making it even easier to use. Finally, there's a new side button for invoking Siri, so you don't accidentally press it in the dark. It has a rechargeable battery that should last for months. 
Apple is bundling the new Siri Remote with the new Apple TV 4K ($179 for 32 GB or $199 for 64 GB) and the old Apple TV HD ($149), and if you already have an Apple TV HD or 4K, you can buy the new Siri Remote by itself for $59.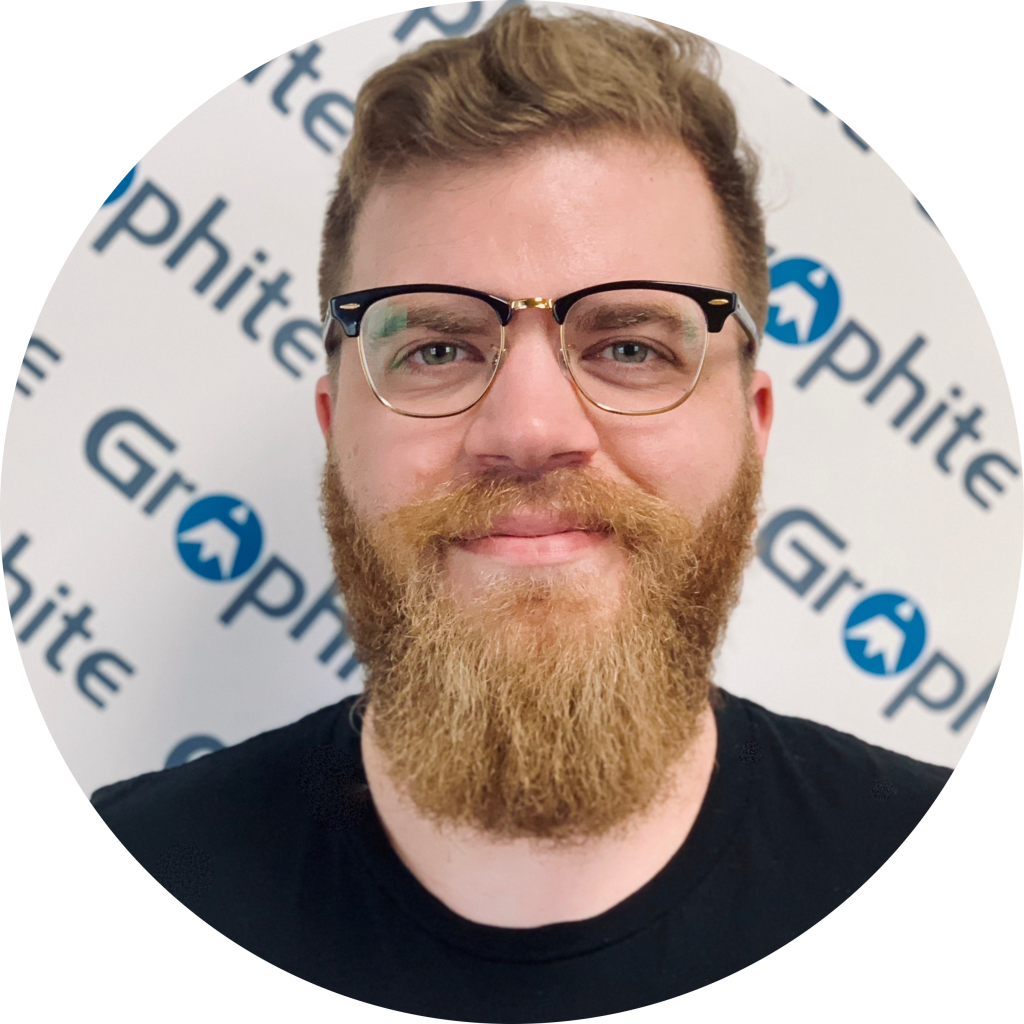 Hello!  
My name is Matt, and I am the Sales Manager for Graphite. Our customers and staff have enjoyed the power and speed that comes along with Apple's new M1 processor, and I am excited to see them available in the iMac and iPad Pro lines! I have only heard great feedback about the M1 powered Macs, super-fast, excellent battery life, and for a great price.
the whole store is very excited about the new AirTags as well. Track your keys, phone, bike, bag, and so much more. I think at least half the staff already has them on pre-order, myself included! AirTags are available for pre-order now, and everything else mentioned in the article above is available for pre-order on April 30th (shipping from late May to early June)
If you have any questions, you can bet we have the answers. Give us a call at 608-838-6650 or email the sales team directly at sales@graphiteas.com. Thank you for being a Graphite customer!